A good sauté should be cooked quite slowly to allow the flavours to meld and the sauce to thicken and become nice and rich.  The first chicken and mushroom sauté I recall clearly was at a mainly-lobster restaurant overlooking the Atlantic in Brittany, a long time ago.  My wife and I had been commissioned to produce an illustrated  book about the area, which we diligently did, only to find the publisher had gone bust when we had finished it.  But we had a good time doing it.   The sauté was pictured in the kitchen before plating up – the chef was the wife of the owner who did the seafood leaving her do cook the meat dishes he considered unworthy.  "We are Bretons", he told me proudly, correcting the way I had pronounced his name (It was  spelt "Plos" and I said "Plo".   "It is PLOTH – PLOTH", he responded testily, the Breton pronunciation.  Breton was the language of the kitchen.   I have to say his wife's chicken sauté was excellent, but his lobster salad was out of this world.  I append a picture below in dribbling memory…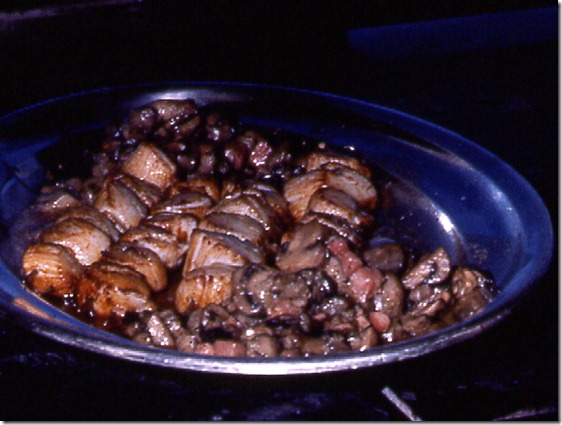 Ingredients for four good servings
500 g of skinless, boneless chicken thighs, cut into small chunks
3 tbsp olive oil 200 g button mushrooms, each sliced into three
2 large onions (250g), peeled, halved and thinly sliced
1 clove garlic, peeled and chopped
125 ml chicken stock
125 ml dry white wine
1 scant flat tsp corn flour
Pinch of Herbes de Provence
Method (total cooking time about 30 minutes – though a few minutes more won 't harm the flavours)
1. In a large non-stick frying pan, which has a lid, heat the oil
2. Fry the slices onions until translucent
3. Push the onions to the side of the pan and add chicken chunks, frying for a few minutes until chicken is beginning to brown slightly.
4. Turn chicken fry for a minute or two and then turn the onions around with it.
5. Cook on low heat for about three minutes, then add the sliced mushrooms garlic; and Herbes de Provence; stir in.
6. Cover and cook on low hear stirring from time to time.
7. Add the chicken stock, cover and simmer for 10 minutes.
8. In a cup mix the corn flour and wine and stir into the pan.
9. Carry on cooking for a few minutes more – if necessary add more liquid – the sauce should reduce to a nice smooth consistency and the chicken will be tenderly cooked through.
10. Serve with rice, pasta or new potatoes.