As write, the rain continues to  fall.  It is damp, dank and miserable.  A quick hot uplifting plate of something was called for at lunch time, made from what was in the house, neither of us feeling willing to brave the elements to go shopping.  Pasta is always welcome, and provided you have a sauce with a decent amount of vegetables in it, you can go easy on the quantities.  We like linguine a lot – a sort of "squared off " spaghetti but not as hefty as tagliatelle.   Lots of sauces come to mind – this one is tasty, cheap and good for you (Note the absence of cream, cheese or butter)   The basic recipe is very flexible, too.  Vegeterians can increase the mushrooms and add a little sliced celery.  Fish lovers can omit bacon and throw in some de-frosted prawns with the peas…   and so forth….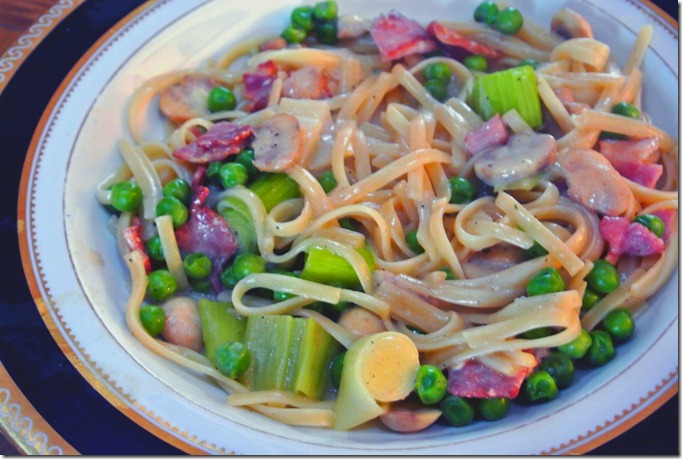 Ingredients for four servings
250g linguine
20 button mushrooms
1 leek, green wherein dirt may lurk removed
4 rashers of smoked back bacon
1 cup (125g / 4 oz) frozen peas
2 tbsp oil for frying
Scant tsp of vegetable or chicken stock powder or half a stock cube, crumbled
Several pinches of black pepper
1 level tsp of corn flour 125 ml / 4 fl oz milk
Method
1. Cut leek into chunky rounds – about 16, and wash in a colander inspecting closely to make sure no dirt is left.
2. Clean mushrooms (don't wash them) and slice each one into three.
3. Cut bacon into small pieces.
4. In a small pan boil the leek pieces until, almost tender. When done, set aside keeping the cooking water.
5. In a large non-stick frying pan heat the oil and fry the bacon until it is beginning to go gold at the edges, turn around.
6. Add the mushrooms and stir fry for around four minutes. Turn heat off.
7. In a large saucepan put the leek water and some more sufficient to amply cover the pasta and bring to boil, then add the linguine. Cook at a rolling boil for 8 – 10 minutes when the pasta should be done. Drain, discarding the water.
8. While the pasta is cooking put the stock powder or cube into a small bowl or a jug and pour over a few tablespoons of boiling water. Whisk. Then add the milk and the corn flour and whisk well.
9. Warm the mushroom/bacon mixture on medium heat.
10. Add the leeks, and peas and stir around till peas or tender, then add the pasta.
11. Finally, add the milk/stock mixture, stir in and heat gently until bubbling.
Serve with crispy fresh bread.
Wine accompaniment a glass or two of a light red Chianti Classico: