I like food I can identify when it's put before me.  It seems to me that Italian cooks are as good as anybody at doing this.  And what a good sight a plate of well sauced pasta is. For the home cook it isn't a daunting prospect either.  Seeking good classic, easy-to-cook recipes, I asked the chefs at the Amathus Beach Hotel, Limassol, to create a week,'s lunch and dinner menus for a special magazine feature.  I had a marvellous day with them, watching the "Prep" the cooking and then taking pictures of the final dishes – as well tasting them.  From the week's suggestions, I can recommend these two very highly.
Linguini with Grilled Tiger Prawns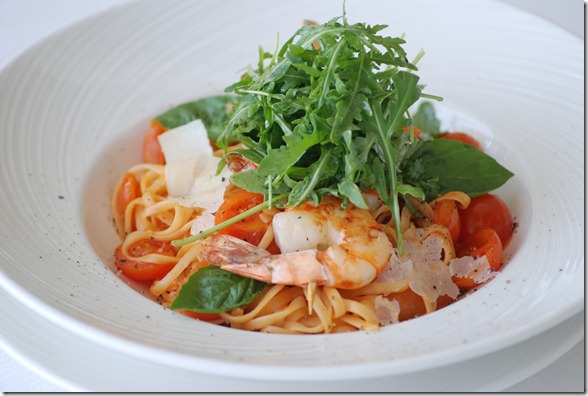 Ingredients for six servings
600 g of fresh Linguini (you may cook more if you wish.  If you can't get fresh the packet variety does very well)
18 Tiger Prawns
Rocket leaves
Olive oil, balsamic vinegar and Parmesan flakes for dressing
300 g / 11 oz Tomato Sauce (see recipe below)
300 g / 11 oz Cherry tomatoes
Tomato Sauce
1kg (2 lb 2 oz) Fresh ripe tomatoes, peeled and chopped (remove seeds if you wish)
1 medium onion peeled and chopped
3 cloves garlic peeled and chopped (more or less as your taste desires)
4 tsp tomato paste
4 tsp sugar
Fresh basil
Salt and pepper
Method
1. Sautee the onion until transparent, add garlic and fry until edges start to turn golden.
2. Add tomato paste, stir, then add sugar.
3. Add chopped tomato and fresh basil.
4. Season to taste and simmer for around 20 minutes.
5. Boil Linguini in plenty of water for 3 minutes
6. Peel the prawns, brush them with olive oil, spear them onto a brochette or kebab stick, season them lightly.
7. Heat grill to very hot and cook the prawns till juicy and cooked through. Do not overcook.
Assembling:
1. In a pan brushed with olive oil add the cherry tomatoes, the basil and the tomato sauce
2. Add linguini, mix well.
3. Serve on a plate, garnished with the brochette of prawns, with the rocket leaves on top.
4. Sprinkle over drops of olive oil and balsamic vinegar.
Rigatoni with Pesto Chicken
Ingredients for six servings.
300 g / 11 oz Rigatoni
3 bunches of young spinach, well washed.
6 tbsp Pesto
3 tbsp olive oil
600 g / 1 lb 6 oz of chicken fillet, grilled.
300 g / 11 oz of cherry tomatoes, cut in halves.
180 g / 6 oz of freshly grated Parmesan cheese. Use slivers of cheese for a nice effect if you like.
Salt and pepper to taste.
Method
In a large pan of plenty of boiling water cook the pasta according top the instructions on the packet, (around 8 – 10 minutes) .
Around the ninth minute, stir the spinach into the pasta.

Drain very well and then stir in the Pesto, the olive oil, the chicken and tomatoes.

Seasons to taste and serve immediately.

Generously sprinkle; the grated Parmesan over.