Matthew Stowell takes Ryanair to Greece and finds fish worth the journey
We've been taking full advantage—while it lasts—of Ryanair's cheap flights to European countries, most recently to Greece, a land much in need of tourist Euros.  We flew from Paphos to Patras for €24 round trip. (Ryanair flies from UK airports to Patras – Ed.) Patras is not exactly next door to Athens, our destination, but it's an interesting port in itself, with wide views of the sea and an impressive cluster of mountains looming in Zeus-sculpted beauty across the bay. An important urban centre through most of modern Greece's history, Patras these days displays a sense of old-style calm and peace—a reminder of what Athens might have felt like fifty years ago. There are lots of open air cafés and tavernas within the town and green, tree-shaded places to relax along the water. Within the city limits, there were no broad sandy strands visible, but just east of the city, tourists and locals enjoy the well-maintained beaches of Lambiri, Psathopyrgos, Rio among others.
Strolling around Patras, we saw several other reminders of a stylish past, including a 60s era tram car that at night, with its romantic interior lighting, wide seats and streamlined body resembled a dreamy almost surreal scene from an Angelopoulos or Fellini film. Buses for Athens leave Patras every half hour but we decided to spend a night there before moving on. It turned out to be a good decision because we had one of the best meals of the entire journey in a small fish taverna across the street from the sea. We had been told that the fish places close to the water would fleece us, so we proceeded with trepidation. However, we weren't used to the really horrible condition of the pavements in Greece (you should never wear open-toed sandals or shoes and should always step cautiously), and on a loose chunk of pavement corner marble we lost our balance and all but fell into Apanemo (without wind), the doorframe the only thing stopping us from dashing our already sufficiently addled brains against the floor.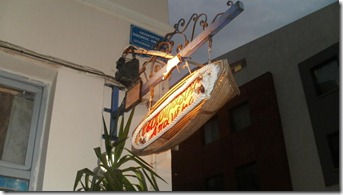 Run by two brothers—one cooks, the other serves—Apanemo is a holdout from the seemingly distant days when tavernas could be relied upon to serve up good local food at prices the average working man or woman could afford. Which meant normal people could enjoy themselves, even treat themselves, to a happy and fulfilling evening out, without worrying about where the next month's rent was coming from. When we fell in, it was 8 p.m. but there were no customers occupying any of the four tables outside or the same number inside. In fact, it appeared that renovations were in progress and the place was not yet open for business. A laptop music system was loudly playing a classical cello piece (good sign), there were boxes on the floor, and the fish display case was empty except for a few soap bubbles. Then a long-haired young man emerged from the back, turned the music down and declared that they were indeed open. In fact, this was the first day of business after some repairs and re-fittings! The gods were smiling upon us.
Within a few minutes the display case was full of fish (minus the soap bubbles) and we were at an outside table with a carafe of chilled local Moscato in front of us. The village salad consisted of cucumbers, onions, feta and large wedges of the tastiest tomatoes we've enjoyed since Crete. And the olive oil in the salad was so rich and toothsome, it took great willpower to stop myself from drinking it down like a fine white Burgundy. The bread was a whole wheat village affair of substance and quite welcome after the factory fluff that many restaurants are now serving. There was also a plate of cracked green olives done in olive oil, garlic, herbs and lemon and a generous bowl of something akin to skordalia (dipping garlic sauce) but made with soaked bread rather than potatoes. One taste of this dip and I was ready to change my itinerary to add another day or two in Patras.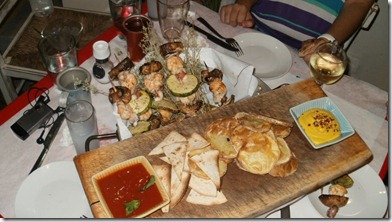 The main dish was barbounia (red mullet), which had been pan fried, as usual, but only after having undergone a light dusting of flour and herbs. I don't know which herbs were used but it was a delightful twist on this favourite dish and each bite taken with a smear of the garlic dip produced genuine oohs and aahs from the entire table. Almost needless to say, the thin-cut, oregano dusted fried potatoes that accompanied the fish were equally tasty, and the white wine, which I had hesitated in accepting when the brothers suggested it (I wanted a rosé) turned out to be a perfect pairing for the entire meal. Like the proprietor brothers of Apanemo, the wine had depths of character, a classic stylishness and complete honesty. The total bill for the meal was €30. As the evening progressed, the place filled to capacity, so reservations are advisable unless you show up early, which in Greece means before nine p.m.
Apanemo, 107 Otho & Amalias, Patras, Greece. On the seafront to the west of the town's centre. 2610313489
Posted 19th October 2012   Photos by Matthew Stowell