You can't always get to a farm shop – for some people the cost in petrol precludes frequent visits and others, of course, don't necessarily drive or have a car. So the next best thing is to look closely at the produce in your local supermarket for regionally or, better still, locally produced foods. Since our return to the UK a few months ago, we have tried to be diligent about doing this. So, when a special display of organic flour milled just up the road at Maple Farm Kelsale, from locally grown grain, appeared at my local supermarket, I had to try some.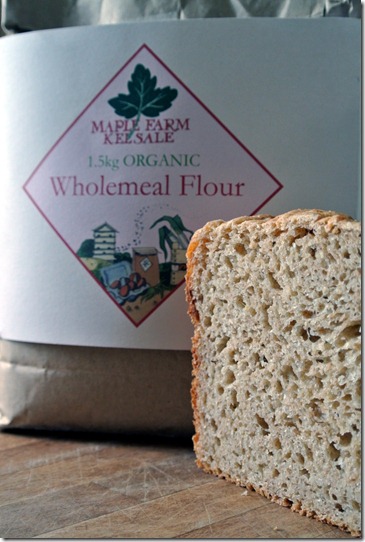 My choice was the Wholemeal Flour and my 12-year old Panasonic bread-maker turned out splendid loaf. Contrary to most bread machine recipes which use a blend of wholemeal with something like 25% of strong white bread flour, mine was 100% wholemeal. It had a lovely wheaty flavour and a good firm but well aerated texture. It was very good indeed fresh from the "oven" and after a day or two, wrapped and kept in the fridge it made perfect sandwiches.  Toast?  Lovely, too.
The flour is one of a range of wheat, rye and spelt flours, which in turn are just one part of the Maple Farm business. This has been run by the Kendall family for more than fifty years, and, wisely they have expanded and developed it in terms of product ranges and marketing skills befitting the difficult and competitive times in which we live. Eggs, honey, organic meat, potatoes and vegetables are all in their roster. Awards and consumer satisfaction are reported as are many other items of information, hints and ideas on a friendly, homely and easy to navigate website.
My recipe for a delicious Kelsale wholemeal loaf using a bread-maker is:
425g Maple Farm Wholemeal Flour
1 rounded teaspoon of Allison Instant Yeast
1½ tbsp. powdered milk
1 tsp salt
½ tsp sugar
Generous 2 tbsp olive oil
310 ml water
Put all ingredients in the bread machine hopper and set for mid-sized loaf. I bake mine on the fast programme (1 hr 55 minutes) but the full programme works well, too.
The flour makes excellent savoury bread, too. Take just four ingredients:
300 g Maple Farm Wholemeal flour
1 tsp salt
2 generous tbsp. olive oil
200 ml water
1. Put in the bread machine on 45 minute Dough Programme.
2. After this, tip dough on to a slightly oiled baking tray and cover, leaving it for about 30 minutes.
3. Then pat flat and sprinkle some pitted black olives and chopped sun-dried tomatoes (those in a bottle laced with olive oil).
4. Press in to the dough, then roll it up and pat into a fat sausage shape around 25 cms long.
5. Brush with olive oil, score with as sharp pointed knife and bake for around 30 – 35 minutes at 210?C (190? Fan)
6. Great with slices of Suffolk Ham, or a lean sausage or two, and a local salad.
More about Maple Farm and the Kendall family soon.