A sad farewell to some long-serving cameras.
I transferred my allegiance from film to digital photography about six years ago and have never regretted it, because the pictures I was taking for newspaper and magazine reproduction were not going to be enlarged beyond, say, 15 x 20 cms at most, so super-quality in large scale was not vital. Convenience was the thing – living in the Troodos hills of Cyprus meant that I would have to drive 18 kms to a film processing shop and then go back for the prints a day or two later. After that I would have to scan them and transmit them to the publishers with the text. Digital simply was downloading, editing, filing and using.
The cameras I had worked with for many years were put away and languished in a cupboard in Cyprus and for the past 11 months here in England.   I decided to try and sell them, in order to buy a new small non-shutter digital. Having had no experience of E-bay I asked my son, who deals in crime books on-line for his help (*). We agreed a description and a price, which we thought attractive. In the week they were "auctioned" on E-bay there were a number of enquiries and two bids, the second just £20 over the reserve price. It was from a young man very keen on working with film, and when he collected my cameras, it was clear he is knowledgeable as well as enthusiastic.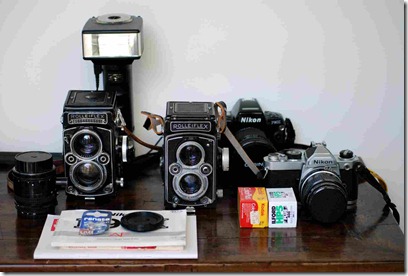 As he put the gear into his car and drove away, I felt very happy for the buyer and the fact that my cameras would go on working and being appreciated, but I also felt a part of my life going too. Each of the four had worked hard for its keep, in a supporting role to my newspaper and magazine writing.
It started almost 50 years ago in 1963.  I had been working on the publicity for Roman Polanski's film "Repulsion" which starred Catherine Deneuve,  and had persuaded the glossy fashion magazine "Harper's Bazaar" to do a spread featuring her modelling a series of beautiful gowns. "We have engaged an exciting new young photographer to take the pictures", the magazine told me.
So, a few days later on a sunny summer afternoon around four o'clock I collected Miss Deneuve from the  5-star Carlton Tower hotel and drove her to David Bailey's studio at his home off the Fulham Road. Dressers and make up people from Harper's were already there, together with the clothes. The young David Bailey said we would do the shoot in the garden. His assistant stood by with a clutch of Nikon 35-mm cameras and lots of film.
In the next two hours about eight dresses were modelled by the star. The lighting was provided only by the sun. For each one David Bailey had Deneuve move slowly and gracefully and sometimes standing still, walking around her taking picture after picture. When one camera's film was exposed the assistant handed him another, fully loaded. I understood that around 1200 shots were taken, of which eight were subsequently used in a fabulous spread. As the shoot proceeded It was clear that the chemistry between star and photographer was working well.
As the sun was setting, champagne was handed round. The shoot ended. The clothes packed and taken away, the dressers and make-up artists departed, as did I.   Miss Deneuve did not require my services as driver.
For me there was a double outcome to the encounter. In future years I would be able to say that I introduced Catherine Deneuve to David Bailey, and I decided to buy a camera. That camera was the Rolleiflex 2.8F on the left of the picture above. Why, then, not a Nikon?  In those days some publishers, exhibition organisers and others still felt 35-mm film did not give the quality required, and the "Rollei" was the camera of preference for many professional photographers. For eight years the 2.8F worked for me and the clients of my PR firm, imaging everything from saucepans to umbrellas, models and machinery and portraits of people as diverse as the President of the African Development Bank and the Editor of "Scientific American" magazine.
"Rollei" photographs from my files.  Above, left: 1966: my son Robert and daughter Susanna, taken in Canizaro Park Wimbledon.  Right: 1968: a family of grape growers in Madeira – very, very poor, the whole family, from toddlers up helped with the grape harvest, those of school age having to skip their lessons.
Below, left: Botley Orford Oysterage in 1972 (note the film showing at the Aldeburgh Cinema).  Right: Brittany 1973, the Sausage salesman
In the 1970s we acquired a black and white film processing firm which had a small photographic studio, equipped with 10" x 8" and 5" x 4" plate cameras and a 3.5F Rollei. The company's work was hand-finished prints which were expensive for the customer and loss-making for me, and when the managers retired we closed it and the Rollei joined my collection. It still looks like new. By this time, however, I had moved on to 35-mm Nikons and the Rolleis were only used in my office for product shots and the like.  I started with a couple of Nikkormats and wound up with an F3, which I gave to a dear friend when we left England. I bought a tilt lens to do a series of architectural photos for a client in the construction industry and found its ability to adjust vertical perspective absolutely brilliant and had a great time going down the Arabian Gulf shooting pictures of tall buildings.
35-mm photos.  Above, left.  1979: Vintage Car Rally at Hardelot, Near Boulogne, northern France.  Camera: Nikkormat    Right: Icy road in the Ardennes, Belgium, 1981.  Camera: Nikon FM2
Below left: "Balkoppen" (Zuyder Zee shallow draught sailing ships, racing) 1982  Nikon FM2   Right: Seascape, Cyprus, 1990.  Nikon F3.
Selling up in 1990 and moving to Cyprus and 21 years of contributing illustrated features to newspapers and magazines entailed keeping the Rolleis, but only occasionally using them, and almost daily work for my current Nikon, an FM manual. After a while I got bitten by the "Auto" bug and bought a Nikon F90X which served me well until I went digital. With a micro lens it did an enormous amount of food and wine close-ups for my articles, cook book and web site.
Finally retiring from weekly professional writing when I was 80, my family of cameras had served me very well for more than half my life. I shall miss them, but they have gone to a good home where their work will, I am sure, please a young man much as they pleased me so long ago.
(*) Robert Skinner has a super website offering vintage crime books at good prices…… www.mrstandfastbooks.co.uk