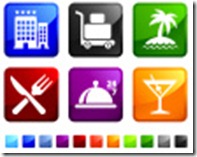 Hotels range from the sleaziest to sublimely luxurious.  Even among the hotel chains, no two are alike. We have experienced all sorts, from the grotty to the grand, in cause of work or play and enjoyed some memorable experiences, good and bad. These are just a few disconnected notes about places we've been – some current, and some culled from my notebooks over my working life.
Curiouser and Curiouser
Mid-summer 2012 and the media, websites and Email promotions are offering hotel deals all over the world at some mind boggling "savings".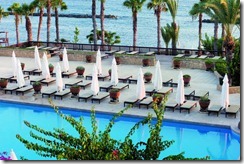 Having known – and loved – the Annabel in Paphos Cyprus for many years, ever since we stayed there on holiday in around 1989, my wife and I thought what incredibly good value an offer in a British Sunday newspaper was: 7 Nights half board for £595, including flights and transfers. Even more surprising was to get a similar offer from an On-line Hotel Club site with a similar offer for a slightly increased price…. Like £1299.
No comment
*********************************************************************************
Pass the Sickbag, Alice.
A Current notice in the bedroom of an East of England hotel:
"if you are sick in the room, we shall render a charge of £50.00 for clearing up and cleaning"
Strange, really, because the hotel has a particularly good restaurant.
*********************************************************************************
At £100 a night for bed and breakfast, would you stay here again?
The young duty manager (open necked shirt and grey trousers) checked us in and asked us to follow him upstairs to our room. He was speed itself and ignoring of our luggage. The stairs were very steep and we were left to carry our suitcase, camera bag and handbag. Not the easiest of tasks for an 81 year old chap and 74 year old wife.
The room was quite pleasant and reasonably comfortable, and equipped with a small library of old paperbacks and children's books. This included a first edition of Ram Stoker's "Dracula". The curtains would not close completely, letting in the street light and despite its size there was no armchair in the room. The bed, however, had an excellent duvet and was extremely comfortable.
In a basket on a bedside table were:
· A "Guardian" Newspaper Weekly Guide, one month out of date.
· Harrods Christmas Hampers Brochure for the previous year.
· A brochure of "London Walks"
· A Time Out Guide to Istanbul
· Two, up-to-date, East Anglian County magazines.
***********************************************************************************************************************
ITALIAN – AS IT NOT SERVED
A couple of years back we were asked to review a newly opened Italian restaurant in a four-star resort hotel in Cyprus. We were directed to the lower ground floor where we found a room of around 50 covers, next door to the main hotel's restaurant which seated over 300. The lighting was very much dimmer than in the photographs of the restaurant published in advertisingand nothing in the décor suggested anything Italian. The atmosphere, in fact, was zilch.
However, we were warmly welcomed by the one waiter on duty, a very pleasant and helpful Sri Lankan, who showed us to our table, asked if we would like a drink and offered the menu. We noticed two other diners (all evening there were just the four of us)
From Amuse Bouche to dessert, the food was neither inspiring or Italian. The chef, we gathered was Moroccan. And his heart was neither in Napoli or Cyprus.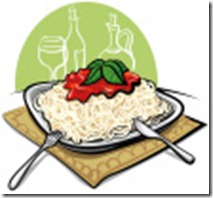 To accompany this feast of mediocrity, there were two sources of music, both at the same sound level. Where we were dining a Pavarotti CD was playing. Drifting loudly in from the main restaurant were the sounds of a live saxophone playing along to a taped rhythm backing. At our request, the kindly waiter turned off Pavarotti so that only one musical sound was audible.
The high point of the evening came as we were starting our dessert. The saxophone p;payer came and stood by the doorway sax in hand, just as the waiter and the chef came out of the kitchen bearing a birthday cake complete with one central lit candle. The saxophone and the cake then converged on the other two diners and the sax player rendered "Happy Birthday to You". The couple looked mystified" "It's not our Birthday", they said. "It doesn't matter", said the waiter, placing the cake on their table and serving it. No, it didn't!
I wrote a very critical review and sent it privately to the hotel management, who didn't respond.
**********************************************************************************
A Mustard Bull's Eye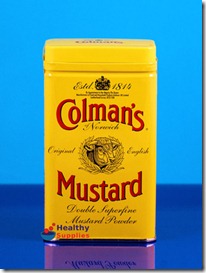 An old friend and business associate, now sadly departed this life, proudly took me to a new hotel restaurant in the east Yorkshire countryside, which he thought I would enjoy. The décor was pleasing, modern and uncluttered; the menu "International". I ordered a steak to follow a seafood starter. All was well. There being no mustard on the table, my host called the young lady waiter and asked for some. This came promptly, a large bowl of it. The waitress took her dessert spoon, cleared a space in the middle of my plate and put a huge dollop smack centre. Knowing how seriously my friend was taking the meal I tried not to laugh – but he was beside himself with fury and it took a lot of persuasion by me to prevent him calling the manager.
Later, to my disappointment, I understood he wrote a letter of complaint to the owners, which, coming from a JP and local business scion would undoubtedly have caused ripples in the service area of the restaurant. Equally sadly, he told me he never went there again.
*****************************************************************************
During my sojourn as writer/reviewer in Cyprus, Mary and I had our first and only experience of how the top people stay at hotels. I wrote the account for a local glossy magazine in 2003.
A1 SEATS AND PRESIDENTIAL SUITES
I have not often flown first class, generally because I have been paying for the ticket. A few years ago a more successful entrepreneur than I, a merchant banker friend, regaled us over dinner with the accounts of the "Networking" he did in the First Class section of the Cathay Pacific flights from London to Hong Kong and the business resulting. As it happened, I had to go to New York the following week, so my wife said she thought I ought to go First Class and do some Networking. So, a few days later I found myself seated right at the front, in the nose cone you might say, of a British Airways 747, in seat A1, outward bound from Heathrow to the Big Apple.
I looked around the first class compartment. There were seven people in it. A very romantic couple, another older married pair, and two odd souls, who looked far from being tycoons. An hour or so out of London, I was the only one awake. I flew back tourist and had four seats to myself, stretched out and slept five hours. Since then, only if a client was paying, have I bothered about Networking at 30,000 feet.
It's a similar thing with 5-star hotel suites. My visits to them have usually been to meet those, richer than I, who are staying in them. I have interviewed Charlton Heston in the Oliver Messel suite of the Dorchester in London, during which he made the following observation: "Some men chase women, some gamble, some get drunk…. me, I do none of these things, but I am the meanest man in the world". This meanness, incidentally, extended to taking his personal Christmas cards into the office of a film distributor, where he signed some autographs and gave them, a hundred cards to stamp and post.
I have been in the Royal suites of some grand hotels to whom I have been a consultant, like the Ritz Madrid and I have been summoned to the finest Claridges has to offer by movie moguls like Samuel Bronston and I have occasionally splurged on a small suite in a less than top class hotel. But I have never spent a night in a truly splendiferous Presidential affair…   Until a few weeks ago.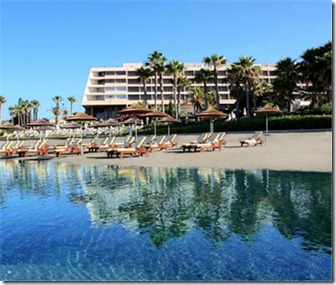 My wife and I had been invited to dinner at Le Meridien (Limassol) by the management and as it is a fair drive home to the hills, I booked a room, to be told by a friendly management that we would be the hotel's guests.
We arrived about 6-30 to watch a hundred Israeli tourists de-camping. We marvelled at the organisation, of checking out rooms late in the day, whilst preparing for other group arrivals, to say nothing of the normal catering of three restaurants and a special dinner for more than 120. We checked in and the charming receptionist said: "We have put you in the Presidential Suite". Mary looked behind us to see to whom he was talking. No-one there. So it was to us.
A very pleasant young lady took us and our battered, much travelled old fashioned leather suitcase up to the fifth floor. At the end of the corridor was a double mahogany panelled door. She opened it to reveal a huge expanse of parquet wood floor, with tastefully scattered Persian carpets and rugs. The decor, furniture and furnishings were impeccable. Firstly, she showed us a large sitting room, with huge TV/audio system in a fitted cabinet. Then, to a large dining or meeting room, a kitchen, a walk-in wardrobe with about fifty hangers in each wardrobe and the bathroom. The bathroom! All the usual fittings, but then up five steps to a round glass-domed shower and Jacuzzi set-up. Six could share the Jacuzzi if needs be. Finally, we thought, there was an extremely well-fitted and comfortable double bedroom.
But, our young lady guide then said: "And here is your private swimming pool", opening a door on to a sheltered veranda on the roof-top, complete with table, chairs and sun-loungers. Water gurgled down a tasteful stone grotto into a jolly good sized pool. The water temperature was 30°C.
Left alone, we wondered at the splendour of it all. We pictured Margaret Thatcher taking an early morning dip. For some reason Robert Mugabe came to mind. And then plump bank presidents, and Japanese company presidential keep fit fanatics. We rattled through the vast space – the suite is the size of six normal double rooms – indulging in flights of fancy. "Would President Chirac bring his swimming costume?" Being French, we considered he would swim in the buff. Which is what we did on Sunday morning, because we hadn't brought ours.
If you are important, or if you have the money and think you are, the two Presidential Suites at Le Meridien are an excellent way of being extremely cosseted and exceptionally comfortable, as insulated from the hurly-burly as you care to be. After a hard day at an International Conference, you have a place to reflect, write, confer or relax. And if you don't want to go downstairs to La Nautile French restaurant (though I can think of very good reasons for doing so), the cuisine can come to you, for there is an appetite-creating room service menu and wine list. And you don't have to put the tray on the dressing table either. It comes silver service, on wheels, and you have a six-eight seater dining table on which to enjoy the meal. The bubbly, of course, has meanwhile been cooling in the kitchen. Your own staff can also prepare your own food there, if you wish.
After our early morning swim, we sat on the terrace and had a breakfast that a number of people were clearly going to make last all day. As good a breakfast buffet as I have seen, with a charming girl frying, scrambling and coddling eggs and omelettes to order, and one to which those at a neighbouring table returned three times. The morning was one of hazy sunshine and we walked around Le Meridien's pretty gardens and along the wooden walkway to the hotel's jetty, spaced out on which contented hotel guests were lazing, reading the Sunday paper and taking the air and the sun.
"For us, that was just a little Over the Top", my lady said as we checked out from the Presidential accommodation. "I would have enjoyed staying in one of their ordinary rooms just as much". Possibly true, but we had had a great time and as a long-time observer of the good things of life, if great comfort with a restrained luxury is what you want, then this is the place.
************************************************************************************