Good pull up for tired auction attenders at Wickham Market…..  
Of a Monday, those with a day off, retirement time in hand or ladies who have a free hour or two often hie themselves to Abbotts Auction rooms at Campsea Ashe, a hamlet a few miles north of Woodbridge. Also present will be a number of people in "the Trade", i.e. those who buy and sell the kind of stuff brought in here. There are two sales – the larger one is a large and motley collection of almost anything you could find in any part of a house or garden.  Antique nearly all of it ain 't (older and 'quality' stuff can be bid for in the second, separate, less frequent sale) – from plastic bowls and unwanted IKEA, via glass, china, ornaments, jewellery, gramophones, pictures and you-name-it, to recent and oldish (like Edwardian) furniture of every description.
The drill is to view the sale items at selected times a few days before the auction.  If you know you are going to bid, you get a numbered card from the organisers.  This you wave at the auctioneer when the item in which you are interested comes up. Patience is needed here – there are 500 or more lots. Many go to dealers and you may see items turning up in various "Antiques Markets" shortly afterwards, often with very tiny mark-ups on the purchase price.
For the casual observer, the spectacle is enjoyable-  You can stroll about and go in and out as you will.  Outside there are various refreshments, "farm" food stalls, garden and all kinds of other paraphernalia.  Then after a good mosey round, many repair to one or other of local Pubs, whilst others who know a good thing when they see it, hop into their cars and head a mile or two up the road, across the A12, to Wickham Market, where in the main square some excellent snack/light lunch sustenance is at hand..
REVIEW – by SuffolkEater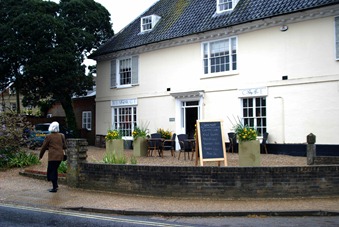 The handsome period building on the corner of the South-western square at Wickham Market houses two related businesses owned and run by Neil and Jilian Evans – on the left hand part as you approach it is Vintage Forty Six, an attractive antiques centre which appeals to both professional and amateur.  "Stuff" of generally good quality and condition is tastefully displayed.  If there was no other activity in the building it would be worth a visit.  But, to the right of the doorway is Cafe Forty Six, open from Monday to Saturday for morning coffee, light lunches and afternoon teas.   Here Jilian and her colleagues serve home-cooked and/or locally sourced goodies.  Space is limited, so no actual cooking is done on the premises, apart from a little toasting. This doesn't prevent enjoyment of some very good food.
The daily menu is chalked on old Lyons Cocoa headed blackboard. Sandwiches and light meals are on offer – all freshly prepared.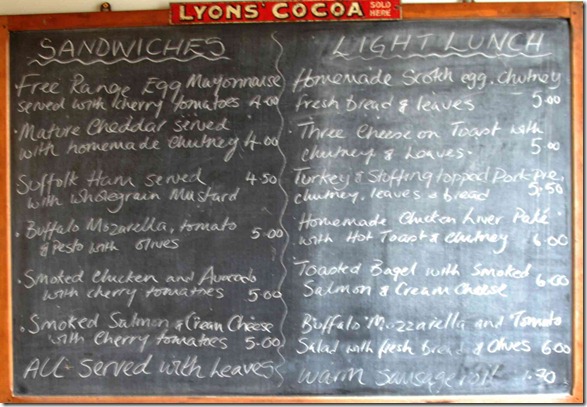 After our sojourn at Abbotts Auction House, four of us chose:  Three Cheeses on Toast with Chutney and leaves (£5.00); Chicken Live Pate with lashings of granary toast and leaves (£6.00); Suffolk Ham Sandwiches with wholegrain mustard (£4.50) and Smoked Chicken and Avocado Sandwiches wit Cherry Tomatoes (£5.00).   The Turkey and Stuffing Topped Pork Pie with leaves and bread targeted by one of us had had a run on it, so we'll have to sample this on another occasion – we hear tell it's very good indeed.
The bread is good here in substance and taste and the contents of the sandwiches have flavour, contrast and a bit of bite.  Portions are generous and the devourer of the Three Cheeses Toasted pronounced his plate most satisfactorily filling. There is a modest but adequate bevvy list – the coffee is outstanding and for those who want to tope a little there is a splendid bottled beer and wine available by glass or bottle.  There are home-made buns, scones and cakes of excellent quality.  All this comes with a friendly, jolly atmosphere. some free and some paid parking right outside.
Cafe Forty Six, 46 High Street, Wickham Market, IP13 OQs.  Telephone: 01728 746642  Email: cafe@vintage46.co.uk    Open from Monday to Saturday for morning coffees, light lunches and afternoon tea.  See more pictures at www.vintagefortysix.co.uk  
Eastward Ho!  RECOMMENDED ROSTER