Two lovely, zingy Mediterranean dips…. superb with hot Pitta or a fresh Baguette, as a snack or with some salad a light meal.  With the three other "dips" of my June 10th Post (Hommous, Moutabal (smoky aubergine dip) and Skordalia (Garlic Sauce), you have a delectable quintet of buffet or party openers.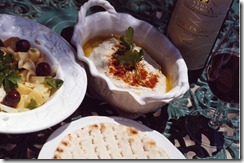 Tapenade of Black Olives and Garlic
This is a Provençale dip that is ideal for summer, as the basis for a light lunch or part of a buffet table. The only part that bugs me, with my clumsy fingers, is shelling the lightly-boiled eggs!
Ingredients
100 g of pitted black olives (preferably Kalamata)
50 g unsalted almonds, skins on, chopped
2 soft boiled eggs (2 minutes), cooled and shelled
2 cloves garlic, peeled and chopped
1 tbsp wine vinegar (Balsamic for preference)
1 tbsp of thick chicken stock (optional)
3 tbsp olive oil
Pinch of tarragon
Salt and pepper
Method
Put everything except the olive oil, tarragon and seasoning into your food processor and whizz until you have a paste.
Drizzle in the olive oil little by little, and whizz until you have a nice spoonable blend. Season.
Put into a small bowl, sprinkle over the tarragon.
Serve with crispy heart-of-lettuce leaves, sliced, tomatoes, slivers of carrot, green pepper and cucumber and fresh bread.
Muhammara
Makes one cup/small shallow bowlful
2 medium sweet ("Bell") peppers
cup of Walnuts
¼ cup toasted bread crumbs
1 small clove garlic or to taste, crushed with a pinch of salt to make a smooth paste
1 coffee spoon of seeded and finely chopped hot red chilli pepper or to taste.
1 des-spoon Pomegranate Syrup or bottled pomegranate molasses
2 tsp freshly squeezed and strained lemon juice or to taste
2 pinches of salt or to taste and ground black pepper
2 tbsp olive oil
Chopped fresh mint leaves or parsley
Small Mediterranean black olives or toasted pine nuts
Method
Open sweet peppers and discard seeds and stalk.
Heat grill to very hot.
Grill peppers until skin is blackened and bubbly.
Cool peppers and then scrape or otherwise remove blackened skin. Cut them into slices.
In your food processor place the walnuts, bread crumbs, garlic, chilli pepper, pomegranate syrup, and lemon juice and whiz until the mixture is smooth.
Add the bell peppers and salt and blend until the peppers are puréed.
Drizzle in a quarter cup of the olive oil and whizz. The mixture should be quite creamy, but still with some slightly grainy texture.
Remove into a small bowl, cover and chill for a few hours.
Before serving, drizzle a little olive oil around the edge of the bowl(s) and garnish with chopped mint and a sprinkling of the olives.