Would you know what a lentil looked like when it was growing? Although they are grown in France, Italy, Egypt, North Africa, India, Canada and the United States, I confess have never seen one growing.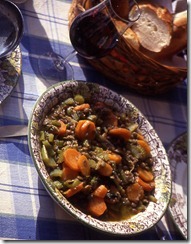 In fact the term "lentil" covers quite a wide variety of plant. A lentil is a bean-like seed; a cousin of the bean. It is a member of the legume family, which is the generic word to describe seeds that grow in pods. There are small, medium and large lentils; red, green, yellow, brown and green ones. They can be purchased and used whole, split, or ground to flour.
Lentils are high in complex carbohydrates, protein, minerals and soluble fibre. They are low in fat, cholesterol and calories. They are a good source of iron and folic acid.
Folic acid is important for us all, but especially for women in child-bearing years. Soluble fibre is an important part of a healthy diet and especially beneficial to diabetics. It decreases the amount of glucose in the blood, thereby decreasing insulin requirements.
So, THE LENTIL IS GOOD FOR YOU. There is a good supply of lentils available in Cyprus, on both normal supermarket shelves as well as health products. They are quite easy to over-cook, and generally do not have to be soaked before boiling. They can be a substitute for meat in this very pleasant pasta sauce, for example.
Ingredients for 4 servings
1 tbsp sunflower oil
1 medium carrot, peeled and chopped
1 large clove of garlic, peeled and minced
1 medium onion, peeled and chopped
1 large stalk of celery, thinly chopped
A good handful of button mushrooms, sliced
5 medium ripe tomatoes, skins removed, and chopped
1 x 375 ml carton of concentrated tomato juice
160 gr dried green lentils
Some pinches of dried oregano and, if you have it, a few leaves of basil, finely chopped
Method
*Heat the oil and stir-fry the carrot, onions, garlic and celery until softened.
*Add the tomatoes, tomato juice, the mushrooms, herbs and lentils to the mixture and stir well. Simmer of a very low heat for about 45-50 minutes. Add some water, if necessary, to keep the mixture from becoming too thick.
*Salt and pepper as you go. I think adding a vegetable stock cube to the mixture would be a good idea.
This sauce makes an excellent alternative to Bolognese (Ragout) and you can serve it with spaghetti or any other pasta. It is also very nice with green tagliatelle.