"Soup Glorious Soup"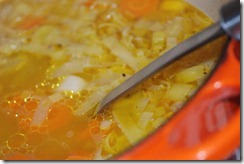 As the cooler evenings arrive, so hot starters can be considered. And in my view, a good home-made soup takes a lot of beating.   Read the new cook books, or the menus of trendy restaurants and you'll come across some weird ingredients used these days in a soup. For my wife and me, though, you can't do better than using a classic recipe. This one dates from the 1970s and it is adapted from a book by a wonderful cook who ran the kitchen of Britain's largest magazine group, producing dozens of terrific recipes, before going on to become THE TIMES cook, during which period she published some evergreen recipes books. Around our table it has been very well received.
Essential Equipment which saves energy and effort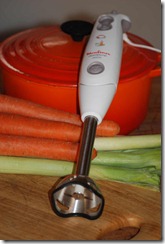 To make good soup and to save effort there are two items I think you must have. First of all a good heavy pot with lid, which doesn't burn – mine have always been Le Creuset, which I have had for many years and which will be in use long, long after I have departed for the great kitchen in the sky. Secondly, if your want a proper cream soup, a good food processor. The best results by far come from a hand-held electric blender, of which I strongly recommend getting a good powerful one, like the Moulinex "Optipro" 600w.   The advantage of a hand-held processor is you don't have to take the soup out of the pan, saving yourself quite a bit of moving it about and washing up a food processor bowl, blade and lid.   The Optipro blade is simplicity itself to wash.

Cream of Carrot and Leek Soup
Ingredients for 4 – 6 Servings
450 g / 1 Ib carrots
3 large leeks
50 g / 2 oz butter
1.1 litre / 2 pints chicken stock
Salt and pepper to taste
1 dessert spoonful of cream per serving
Chopped parsley
Method
Scrape and slice the carrots.
Trim the tops of the leeks to within i inch of the white stem, and slice away the roots.
Slice lengthwise through to the centre, and then wash thoroughly in cold water.
Shred the leeks finely.
Melt the butter in a saucepan and add the prepared vegetables.
Sauté gently for 2-3 minutes, or until the vegetables are softened slightly, but do not allow them to brown.
Add the stock, stir well and bring up to the boil.
Cover with a lid and simmer gently for about 1½ hours, or until the vegetables are quite tender.
Draw the pan off the heat.
Use a hand-held blender to whizz the soup to a beautiful creamy consistency in the pan – or put into a food processor in two lots and blend.
Check seasoning and heat to serving temperature.
Ladle into warmed bowls. Dribble over a dessert spoonful of cream and swirl and finally sprinkle with parsley.