The pastry kitchen at the Coral Beach Resort, Paphos prepares a range of good, sweet things for the hotel's restaurants. This is just one, a lovely combination of chocolate, banana and other flavours on a praline base, which is served with a raspberry and rosemary sorbet.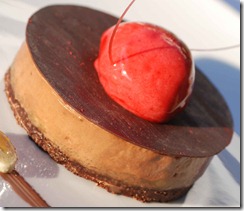 Ingredients for the Chocolate Mousse
100 g egg yolk
120 g sugar
200 g dark chocolate
350 g whipped cream
Method
Beat the eggs and sugar until they become white.
Add the melted chocolate and then fold in the whipped cream slowly with a spatula.
Ingredients for the Banana Jelly
500 g sliced bananas
50 g water
100 g sugar
1 gelatin leaf
Make a caramel with the sugar and water  Cook it until it takes on a golden brown colour and then add the banana slices and the gelatin, stir carefully.
The Praline Crust
100 g milk chocolate
200 g praline or gendujia paste
300 g crushed digestive biscuits
Melt the chocolate and mix in the other ingredients.
METHOD
First make the praline crust and spread a thin layer in the cake mould.
Add a thin layer of banana jelly and put it in the fridge until it is set.
Top the jelly with the chocolate mousse and put it back in the fridge until set.
You can eat the dessert with raspberry sauce or vanilla sauce.