Recipe from "Patrick Skinner's Cyprus Kitchen", illustrated by Alyana Cazalet
Allegedly the invention of novelist and long-time London "Evening Standard" theatre critic, Arnold Bennett, in the 1920's, and to be found to this day on the menus of clubs and restaurants around Fleet Street. It is a splendidly rich and tasty concoction.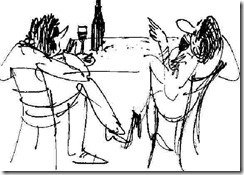 Ingredients for 3-4 portions
6 large eggs
125g grated cheddar, or similar, cheese
250 g of smoked haddock fillet
1 tbsp finely grated Parmesan cheese
1 small carton of double cream
salt and black pepper
Method
Poach the smoked haddock in milk in a shallow pan. When flaky, remove the skin and discard the milk, or give to the cat. Leave the flaked fish in the pan.
Add the grated cheese and mix gently into the fish, over a medium heat. After a minute or two, remove from stove and set aside.
Break six eggs into a large bowl and beat well. Add salt and black pepper and a pinch of Cayenne if you like.
Turn on your grill to high.
In a heavy, medium-sized frying pan, heat the oil and butter until sizzling. Add beaten eggs and cook over a medium heat. With a fork or spatula continually turn the egg mixture from the bottom of pan upwards and let the liquid egg run into the space.
When the eggs are nearly set, but still juicy-looking, spread the warm mixture of smoked haddock and cheese on the top of the egg, pour the cream over evenly and finally sprinkle the Parmesan over the top.
Put the pan under a hot grill (with the handle sticking outside, naturally!) and get the top brown and sizzly.

Serve at once. Make sure everyone's in position to enjoy it just as soon as it comes to the table!   If you've used a non-stick pan, you can slide the omelette onto a large warmed plate or serving dish—but remember, don't fold it!