Recipe from "Patrick Skinner's Cyprus Kitchen", illustrated by Alyana Cazalet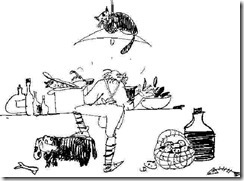 This is a popular Cyprus dish, and it's easy to make a success of Afelia.
Ingredients for 4-6 Servings
450 g of lean pork meat cut into small chunks
450 g of potatoes, peeled and cut into similar sized chunks
2 tsp of crushed coriander seeds (more if you like)
1 tsp of ground cinnamon
1 wine glass (20 cl) of fruity dry red wine
1 wine glass (20 cl) of good meat stock (or half a pork or chicken stock cube in boiling water)
Ground black pepper
20 cl of olive oil
Method
Heat the oil in a large skillet (which has a lid) or shallow saucepan.
Stir in the meat and brown quickly over a good heat (around five minutes).
Add the diced potatoes and stir-fry for around five more minutes.
Add coriander, pepper and cinnamon and stir well for a few seconds. Then tip in the wine and the stock and bring to the boil.
Turn the heat down, put the lid on the pot and simmer for around 30 minutes, or until the meat is tender and the potatoes are cooked through but not falling apart. If your oven is hot the Afelia may be cooked there—I rather like the "casseroley" touch this imparts. Oven temperature:175?C
Check the liquid level from time to time and top up with wine and/or stock if necessary. The sauce should be quite thick and rich.

Serve as part of a Mezze, or as a main course with crusty bread, a green salad and maybe a Bulgar Wheat (Pour-gourri) pilaff.
Wine Accompaniment: a fresh, young, fruity red. If you're in Cyprus then go for "Ayios Onoufrios".