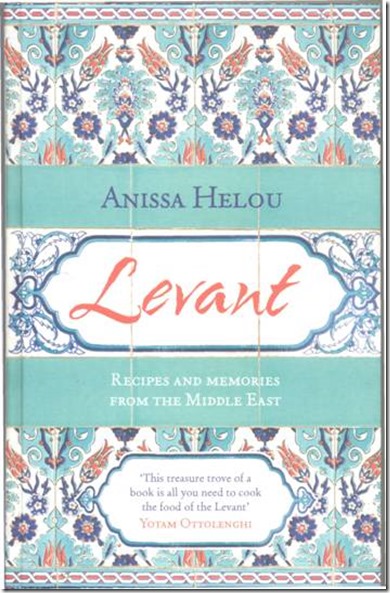 I got a copy of this book as a Christmas present for my daughter, and was so taken with it I straightaway ordered a copy for myself. It is not printed on art glossy paper, it has no colour photographs (just three black and white pictures – two of the author and one of "A sexy vegetable seller in Beirut") and its recipe instructions are not set out in numbered paragraphs. But it is going to be a favourite, comprised, as it is, of classic and lesser-known middle–eastern food recipes, laced with background snippets of information, anecdotes and bits about people.
The atmosphere Ms Helou evokes is of days sadly gone by, driven away by war and strife, remaining just in the memory; days of families gathered round the table, helping themselves from steaming pots and bowls. Reading the text brought images of fifty years or more ago, of one summer my then wife had spent with her family in the hills behind Beirut and I had flown over to pass with them the two weeks' vacation allowed by my employers. After a late night arrival at Beirut airport and a 25 kilometre ride up the winding highway into the hills, my first meal was family lunch the following day: my wife, her father, two sisters, one brother-in-law and me.
The main item in that lunch was fat light green courgettes stuffed with spiced lamb and rice and cooked in yogurt. Garlic cloves abounded in the pot. There was fresh flat Arabic bread, olives, hummus, tahini and several kinds of pickles. After two platefuls, I was asked by my wife if I had enjoyed it. Yes, I replied, but I thought the rice was overcooked. To my embarrassment she relayed this to her sister, who dragooned me into the kitchen the following day and every day thereafter. Having done at least part of the shopping in the mornings in the local market, I found this a wonderful experience.
Puréed vegetables, pulses and beans are an essential part of Levantine cooking and none more so than Hummus. Another one that I like very much is much less often seen – and I have been asked to print again a recipe for. For Miss Zoe, whose request it is, I am happy to do so.
Put this next paragraph into a box, please
What is the Levant?
It's a geographical term referring to the area in south-west Asia, south of the Taurus Mountains, bounded by the Mediterranean Sea in the west, the Arabian Desert in the south, and Mesopotamia in the east. A very diverse area – steeped in man's cultural, religious, political and socio-economic history.
Recipe….. Muhummara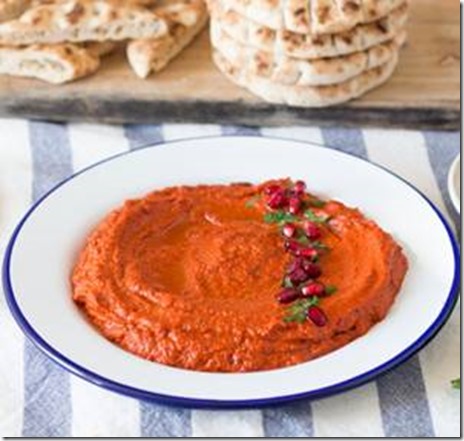 Ingredients for about one cupful (4 – 6 servings)
2 medium sweet ("Bell") peppers (Red for preference)
? cup of Walnuts
¼ cup toasted pita bread crumbs
1 small clove garlic or to taste, crushed with a pinch of salt to make a smooth paste
1 coffee spoon of seeded and finely chopped hot red chilli pepper or to taste, or a pinch or two of ground chilli pepper.
1 des-spoon Pomegranate Syrup or bottled pomegranate molasses
2 tsp freshly squeezed and strained lemon juice or to taste
2 pinches of salt or to taste and ground black pepper
2 tbsp olive oil
Chopped fresh mint leaves or parsley
Small Mediterranean black olives to serve
Method
1. Open out the sweet peppers and discard seeds and stalk.
2. Heat grill to very hot.
3. Grill peppers until skin is blackened and bubbly.
4. Cool peppers and then scrape or otherwise remove blackened skin.
5. Cut them into slices.
6. In your food processor place the walnuts, bread crumbs, garlic, chilli pepper, pomegranate syrup, and lemon juice and whiz until the mixture is smooth.
7. Add the bell peppers and salt and blend until the peppers are puréed.
8. Drizzle in a quarter cup of the olive oil and whizz. The mixture should be quite creamy, but still with some slightly grainy texture.
9. Remove into a small bowl, cover and chill for a few hours.
10. Before serving, drizzle a little olive oil around the edge of the bowl(s) and garnish with chopped mint and a sprinkling of the olives.
Glimpses of Lebanese food and wine….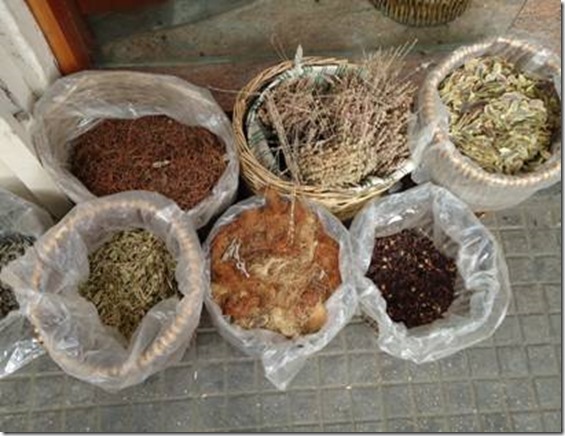 Wild herbs brought to market in Beirut from hill villages. The Lebanese cuisine makes use of both fresh and dried herbs.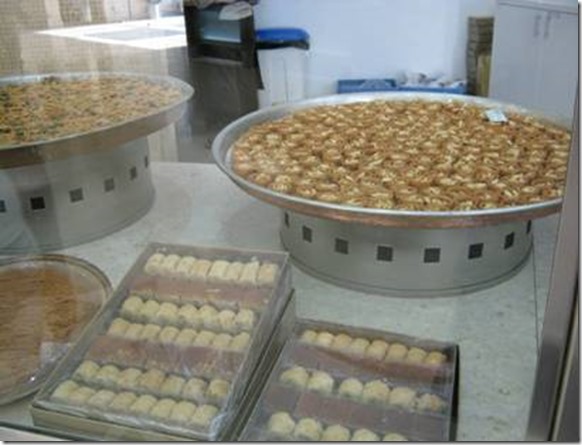 Millions of delicious pastries crowd street stalls, simple shops and very up-market emporia. "Lovely but fattening" are the sugar syrup-soaked nut or dried-fruit filled slices of butter-soaked flaky pastry. Many's the time I stood in line at the best shops of them all in Heroes' Square, Beirut, to buy some for my hosts or tins to take back to England.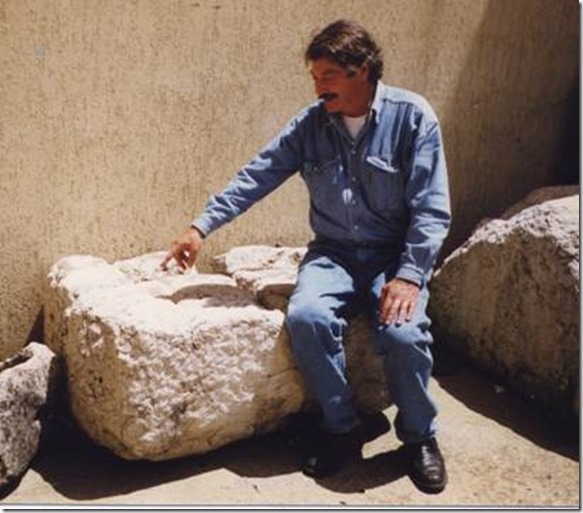 The eponymous Monsieur Nakad outside his winery in the Beka'a valley showing me indentations in a 2000 year old stone, used in the making of wine long ago.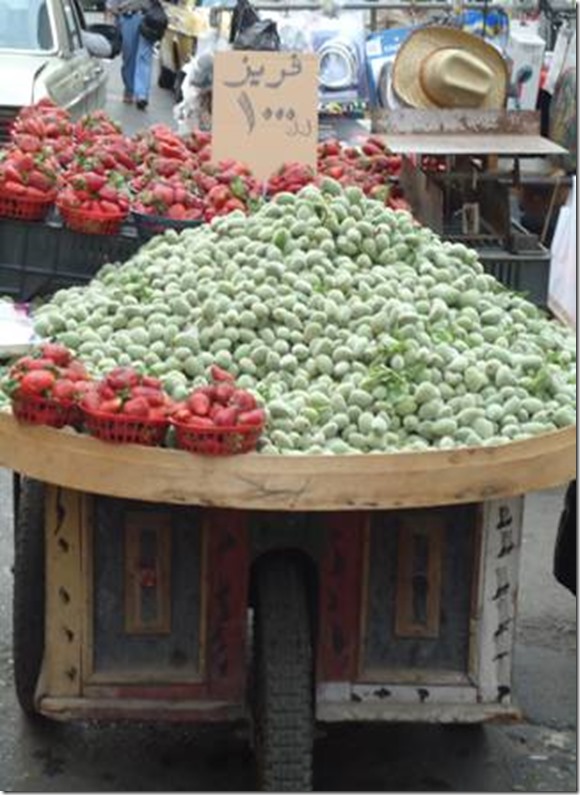 Fresh from mountain villages, piles of fresh almonds. These are used in many Lebanese savoury and sweet recipes. Pine "nuts" are regarded by foreigners as interchangeable, but a Lebanese cook would not have any of this. The real pine nuts come from forests on the border with Syria and within Syria itself. For me they are the only ones worth buying. Once, in Jordan, a friend came back from the market and proudly announced she had found a kilo of Syrian "Snobar" (pine nuts).
Only on decanting them and tasting the musty flavour Chinese pine nuts have did we find a little slip hidden away – "Produce of China". A Lebanese lady who was present said wistfully, "When I taste Snobar and I know they're Syrian – then I will believe peace may be coming".